A+ Trust School Singled Out For Praise in the Annual Report of the OFSTED's Chief Inspector to the Governement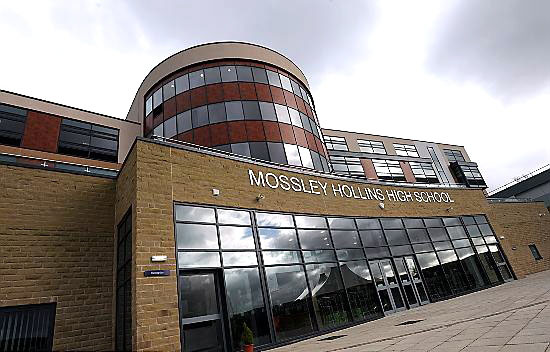 The A+ Trust is an educational trust between Ashton Sixth Form College and six Tameside Schools. It works to raise attainment, aspiration and achievement and work collaboratively to pull together strengths and best practice.
One member of the Trust, Mossley Hollins High School has recently been singled out by The Chief Inspector of Schools' as a beacon of excellence (in The Chief Inspector of Schools' Annual Report for 2014-15).
This report preceded an open letter written by Mr Christopher Russell HMI (Ofsted's Regional Director for the North West) which stated:
"I am outlining my concerns about the decline in outcomes for pupils across many parts of the Greater Manchester area. The recently published GCSE examination results highlight the extent of this decline. It is worrying that some of the Greater Manchester areas now figure among the worst performing local authorities in England for this measure…
There are some pockets of excellence. The Chief Inspector's Annual Report for 2014/15, for example, celebrates the fact that Mossley Hollins High School in Tameside was judged outstanding. However, too few pupils benefit from the strong leadership, excellent teaching and high expectations seen in schools like Mossley Hollins"
Mossley Hollins High School was judged outstanding for the second time by OFSTED in November 2014 and has now applied for Teaching School status and should hear the outcome of this application shortly.
The letter also refers to the importance of strong links between primary and secondary schools:
"Effective arrangements, therefore, need to be in place to support the successful transition of pupils to secondary schools."
The lasting partnership forged in the Mossley & Carrbrook Schools' Partnership (MCSP) between Mossley Hollins High School, Micklehurst All Saints' Primary School, Livingstone Primary School, St. George's Primary School, St. Joseph's Primary School, Milton St. John Primary School (all in Mossley) and Buckton Vale Primary School (in Carrbrook) increasingly secures good or better teaching in all schools and excellent continuity of learning and challenge between the primary and secondary sectors.
The letter also points to the critical importance of continuity between secondary schools and post-16 education and the partnership between Mossley Hollins High School and Ashton Sixth Form College (as part of the A+ Trust with other key secondary schools) helps to forge educational continuity for students to the age of 18.
The report commented on the need for effective governance if a school is to succeed. The Governing Body of Mossley Hollins High School has achieved the national Governormark award and were singled out as outstanding for their strategic leadership.
Mr. Drew Duncan, Mossley Hollins' Executive Headteacher, responded to the Chief Inspector's Report with some pleasure but in the full knowledge that there remains much to be done to further improve the school:
"We are delighted to receive this recognition from OFSTED in its Annual Report. Our teachers, students, support staff, governors, partners, parents and carers value education very highly and work together conscientiously to achieve our excellent results. We were particularly pleased that OFSTED recognised the significant progress made by our less economically advantaged students. In many parts of the country students on Free School Meals make significantly less academic progress than their more advantaged peers but in our recent report, the Inspector concluded that, 'the disadvantaged are not disadvantaged at Mossley Hollins High School'. The school is also focussing on pushing the attainment and the achievement of our most able students so that they can realise their potential in life and future careers. We succeed as a team because we learn together."