Tameside Council talk budget with Economics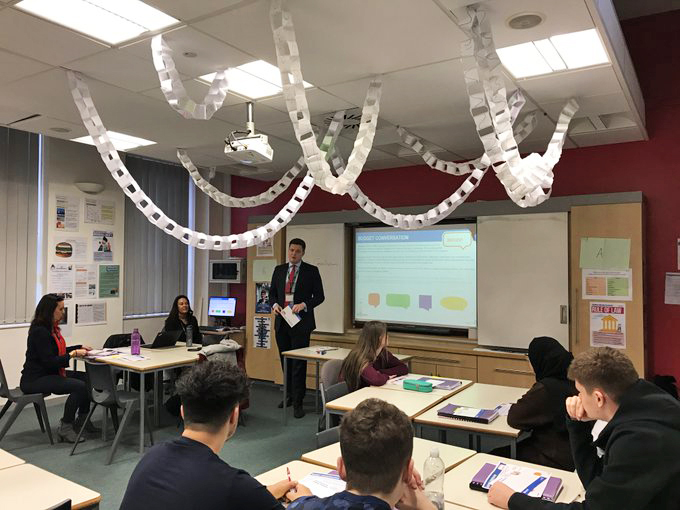 Tameside Council visited Ashton Sixth Form College to speak to Economics students about the budget conversation.
Students were able to find out about the Tameside and Glossop Strategic Commission, made up of the Tameside Council and the NHS Tameside and Glossop CCG. They explored how the two groups collectively spend £935 million. Oliver Ryan, Finance & Economic Growth Executive Member at Tameside Council, led the session and helped the students understand how money is spent in their own borough. Economics students gained an understanding of how budgets are created and how the Strategic Commission choose to allocate money to different areas which involves innovation and prioritisation.
After finding out about how the budget works, they then had the opportunity to voice their opinions about how they feel spending has been handled in the past and where they think more money should be spent in the future.
Great to visit @ashtonsixthform @AshtonEconomics with Team @TamesideCouncil today to talk #Finance & #Budget with A-Level students. Some really thoughtful and original contributions on a wide range of issues from healthcare to bins, thank you all! pic.twitter.com/s17muIJRzY

— Councillor Oliver Ryan (@OliverRyan95) January 14, 2020
Many thanks @OliverRyan95 @Tamesidecouncil @TGCCG @ashtonsixthform . Some really interesting conversations! Decision making with scarce resources really brought to life by the team today action and we are grateful for the fantastic opportunity to get involved.

— ASFCEconomics (@AshtonEconomics) January 14, 2020
---
Find out more about studying Economics at Ashton here.
Tags: careers business economics guest employability