Media Production student secures place at London Film Academy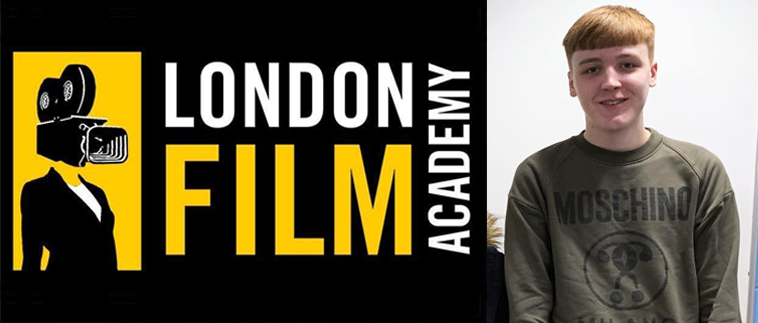 Congratulations to Nathan Nuttall who has successfully gained a place at the London Film Academy.
Nathan studies a full-time vocational course in Media Production at Ashton Sixth Form College. After submitting his application to the academy, Nathan was invited to take part in a Skype interview. Nathan said,
"Although nerve-racking, the interview was really friendly and relaxed and we discussed my aspirations, the qualities I would bring to the uni, and overall just films."
He was offered a place and will start his degree in Filmmaking later in the year. The London Film Academy is based in Fulham and is dedicated to producing filmmakers of the future.
Throughout his time at Ashton, Nathan has developed his skills and honed his passion for film. Last year, his class took part in a placement with Vitafoam where they were tasked with producing a Health and Safety video. Nathan not only gained an understanding of filming on location and the complexities that working on a site can involve, but he also had to work as part of a team while following a brief. His particular edit of the video was chosen by the team to be submitted and his video won the entire competition among international entries too.
Studying a level 3 vocational course has allowed Nathan to work in new environments and develop his practical skills, something other courses may not have provided him with.
"I'd say I benefited from a vocational course rather than A levels... it gave me the experience, knowledge, and most importantly evidence of projects that stand out on an application. If you're looking to go into a unique industry like film and have enough commitment, then vocationals are great for preparing you with all the skills you need."
By choosing to study at the London Film Academy, he will continue this hand on learning approach in a school that boasts alumni who have recently worked on 'Chernobyl', 'Game of Thrones', 'Green Book', and 'Star Wars: The Last Jedi'. Nathan has huge plans for the future and his determination and skill have already set him apart.
"My ultimate goal is to become a film director. Obviously, this is a long way down the line so in the meantime, I just want to break into the industry and build up my film portfolio."
---
Find out more about studying Media at Ashton here.
Tags: careers media media production work placement digital technology and multimedia university